Amber and Blood
Paperback Release

The world of Krynn ever holds new surprises for the unwary, but the revelation that a mortal who dedicated her life first to the One God and then to Chemosh is a god herself goes beyond surprise. For Mina, it goes all the way to her own insanity at the revelation. The gods are in an uproar, for Mina holds the potential to upset the balance of power in heaven. The gods of Darkness and of Light are all eager to claim her as one of their own. But Mina, enigmatic and mysterious as ever, has her own plans -- regardless of what the gods might want and connive at.
The Survivors
Paperback Release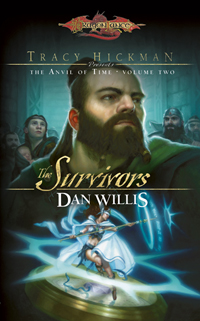 The Journeyman must use the ancient Anvil of Time to travel through history. He is told to observe and not to interfere, a task that is easier said than done...
Bradok Axeblade had it all -- until his hometown of Ironroot was destroyed in the Cataclysm. Deep in the bowels of Krynn, short of food, water, and light, Bradok and a handful of survivors cling to life.
Armed only with a magic compass and an indomitable will, he leads desperate survivors through a perilous maze of ancient dangers.